London, 15th June 2022 - The MSP 501 global rankings list has been released, with The Final Step ranking among the top IT Support companies based in Central London. 

The Final Step is one of only 42 EMEA (European, Middle Eastern and African) MSPs and one of only eight Central London MSPs to win a spot on the list. 

The Channel Futures MSP 501 list is the largest and most comprehensive ranking of the top Managed Service Providers globally.
Channel Futures use a variety of sources, including IT analysts, consultants, partners and vendors to determine the assessment criteria, ensuring suitable metrics are used.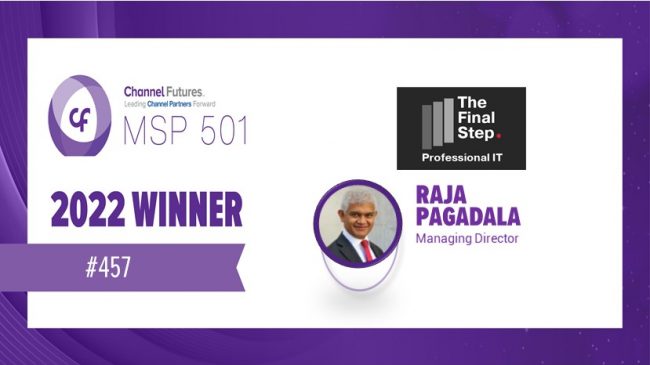 Raja Pagadala, CEO at The Final Step comments:
"We are delighted to be included in the MSP 501 rankings."

"This recognition highlights the incredible efforts of our staff, who work tirelessly to provide exceptional service. Our high client retention and referral rate speak to the quality of this service, and our dedication to adapting our support to our client's needs." 

"We will continue to search for new ways to improve and enhance our IT support going into the second half of 2022." 

About Channel Futures MSP 501

The MSP 501 honours the highest-performing managed services providers across the globe.
The organisations that are part of the prestigious Channel Futures MSP 501 list represent the best of the best when it comes to delivering game-changing technology services to customers. 
How our IT Support can help you fulfil your potent

ial
IT doesn't have to be a headache. With the right IT Support company, it can even give you a head start.
Whether you're looking for fully managed IT Support, cyber security, strategic advice or your internal IT team just needs some support, we are here to help 24/7. 
Based in Central London, we've been helping professional services firms use IT to fulfil their potential since 1987.
Get In Touch
If you would like to discuss improving your company by better use of technology, please call Simon Heath on 020 7572 0000 or email simon@thefinalstep.co.uk