The Channel Futures MSP 501 global rankings list for 2023 has recently been released in full and The Final Step have ranked for the second year running against top IT support companies based in Central London.
The Final Step is one of only 40 EMEA (European, Middle Eastern and African) MSPs to win a spot on the list and one of only seven Central London MSPs that feature in the MSP 501.
Channel Futures use a variety of sources, including IT analysis, consultants, partners and vendors to determine the assessment criteria, ensuring suitable metrics are used.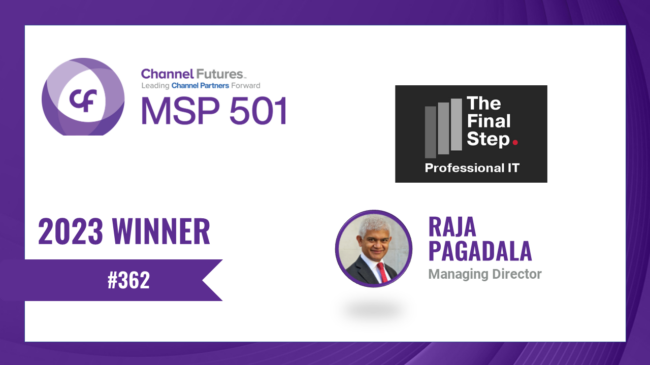 Raja Pagadala, Managing Director at The Final Step, comments
..
"We are delighted to be recognised in the prestigious MSP 501 rankings. This achievement highlights the incredible efforts of our team who work tirelessly to provide outstanding service to our clients. Our 98.5%+ customer satisfaction score for the last 3 years speaks to the quality of our service, and our dedication to adapting our Managed IT and Cyber Security services to meet our clients' needs. We see IT not as a commodity, but as an investment that acts as a catalyst for growth and success."
About Channel Futures MSP 501
The MSP 501 honours the highest-performing managed service providers across the globe based on a multitude of factors.
The organisations that are part of this prestigious list represent the cream of the crop when it comes to delivering game-changing technology services to customers.
How The Final Step can help you
We exist to help you realise your potential.
Founded on the principle of excellent customer service in 1987, we have been providing premium IT support to small and medium sized businesses in London and beyond for almost four decades.
We see IT not as a commodity, but as an investment that acts as a catalyst for growth and success.
Our experienced, highly-skilled and committed team exists to enable you and your business to fulfil your potential through your IT investment.
Get in touch
If you would like to discuss improving your business through better use of technology, please call Simon Heath on 020 7572 0000, email contact@thefinalstep.co.uk or fill out our short contact form here.